Custom Tube Preamps
(Hand built clones, Mods and repairs)
I specialize in small signal tube electronics, original designs, clones, mods, and repairs. I have worked on Ampex, Altec, Bogen, Gates, Heathkit, Dynaco, Telefunken, RCA, Klangfilm, and more. I don't work on the mechanics of the tape decks. There are others who specialize in this who should be contacted for mechanical repairs. For the 600 series, professional help is too expensive for what they are (IMHO.) Click for DIY info on the Ampex 600 series transports.
Life and health circumstances have caused me to stop taking orders for custom projects, sorry. I am leaving this website up for now and will be adding more DIY info soon.
These pages are intended to be part display and part owner's manual for the the buyers of these units and others which are similar. I have chosen a few units to represent the 3 basic models I make from the Ampex 601 electronics: (1) Single channel microphone preamp, (2) Dual Mono microphone preamp, and (3) The LAmpex.
The features and design of these units represent years of experimenting and refinement.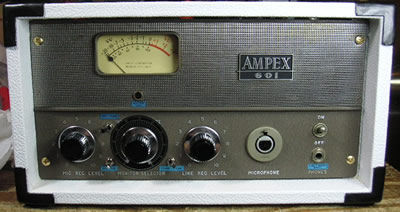 Ampex 601 single channel
with Altec 15095 and custom enclosure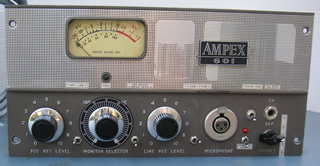 Single channel with Ha-100x and dual OPT (high end)


Rack mount Ampex 601 Dual Mono
w/ Altec 15095s and all controls and I/O on the front
The legendary producer Jack Douglas bought several units from me. He was kind enough to write this review for me.
Jack's units can be seen in the August 2012 Mix magazine article on Aerosmith. They are barely visible in his personal racks.
. I recently added two pieces of gear to the racks in my studio. They are both based around the Ampex 601 electronics from the 1950's. The first is a dual mic pre and the other a single mic pre with an internal LA2A. They were both created, rebuilt and modified by Jim Miller at his shop in Texas. I have had a chance to use them now long enough to rate them. The mic pre LA2A combo or "LAMPEX", as Jim has coined it, is very sweet. The pre is fat and smooth with just the right kind of color you would expect from these tubes and transformers and the LA2A sounds as close as anything has come to the original "Tele".
This unit has become my "go to " on vocals and is great on whatever I plug on the front end, whether it's an old ribbon, a 251, an 87, 47 or SM7. The dual mic pre's, that have so many features I can't get into them all, live on the 67's I use for drum overheads and I have never had a better sound. They would work wonders for any source but during tracking I can't think of anything bigger sounding on drums. While these beauties can never be commercially available (the hardware just doesn't exist) if you can find an old 601 out there I strongly suggest you grab it, pull the electronics out and send them to Jim to work his magic on.
Jack Douglas, Producer/Engineer

DIY info for the Ampex 600 series
Guide to using Ampex electronics
as microphone / line preamps
Rack Ears for the Ampex 600, 601 and 602.